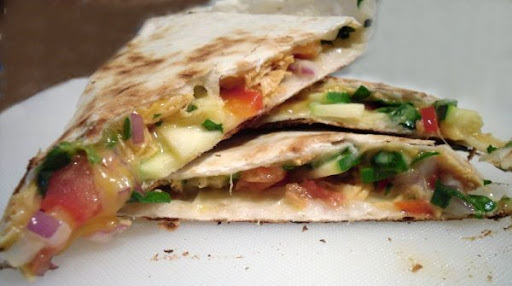 I have to say I'm pretty excited to share this easy dinner idea with you. I don't know if I was just really hungry or if these really were the BEST quesadillas I've ever had. A few Saturdays ago my friend Honoree and her kids came over for a little dinner play date. Her husband is at basic training right now and mine was at a meeting so we decided to make an easy dinner and just let the kids play. It was one of those last minute things, so before she came over we were on the phone with each other, both looking in our fridges trying to decide what we could come up with if we combined efforts. I had tortillas, cheese and some cooked chicken breast. She had all kinds of fresh veggies, so we decided we could do 'build your own' quesadillas.
I hadn't ever tried putting fresh veggies in a quesadilla. We are pretty boring at our house and usually just do cheese, maybe chicken and once in a while a little salsa if we get real adventurous. Then there is Honoree, she is one of those healthy people and finds a way to get fresh veggies in almost every meal (probably even breakfast). To say the least I was a little skeptical about how this was going to go over with my kids. TA DA! My nineteen month old loved them and my three year old gobbled his up too – he just made a very thorough check over every bite to make sure mom didn't sneak in an onion or tomato.
This was such a fun thing to do with the kids. They could pick out what they wanted on their own quesadilla and we had guacamole and salsa they could dip them in. Making this dinner opened my eyes to the endless possibilities of quesadillas for dinner. I talked to my friend Jessica about it and she told me she made some buffalo chicken style ones and dipped them in blue cheese dressing. Hmmmm… that sounds pretty yummy and I think most husbands would really like that.
Anyway, I just thought I would share this idea in case you are in a boring quesadilla rut like I was.
Freshly Loaded Quesadillas
Tortillas Shredded Cheese (your preference) Shredded or Cubed Chicken (*See note at end of recipe) Thinly Sliced and Chopped Zucchini Finely Chopped Red Pepper Finely Chopped Red Onion Finely Chopped Spinach Finely Chopped Tomato Whatever else you want
Heat large skillet on medium high heat. Place tortilla on skillet and immediately sprinkle with cheese, chicken and other toppings of your choice. Place second tortilla on top. Cook until bottom tortilla is lightly browned and then using a large spatula carefully flip quesadilla and cook until the tortilla on the bottom is lightly browned. Remove and place on a large plate or cutting board. Slice with a pizza cutter and serve alone or with beans and spanish rice. ENJOY Remember…..The possibilities are endless, have fun with it.
*I had some cooked chicken in my fridge left over from something I had made a couple days before. I shredded it, put it in a pan with a little water and some seasonings: Cumin, Chili powder, Garlic powder, salt and a little Goya 'Sazon' seasonig. It turned out delicious…..great way to use up leftover meat. Beef roast would be yummy too.
Shared this on All the Small Stuff for , fun stuff!
Just wondering……what's your favorite kind of quesadilla?