Let's have some fun! Welcome to the Crafty Kids Corner…brought to you every Wednesday! I hope this will be a fun place for you to come and find creative and fun ideas for you and your kids to do together.
My goal is to help you have fun with your kids. As mothers, we sometimes get so caught up in getting "things" done that we forget to enjoy our little ones. Hopefully this will be a place that you can come to get simple and fun ideas to help relieve the planning on your part, and let you spend that time enjoying your kids.

Ideas are always welcome. If you have had experience with a project or craft that your kid(s) just loved, then visit our submit page, so I can get the word out. This will be a resource that you will be able to come back to again and again.
The itsy bitsy spider…..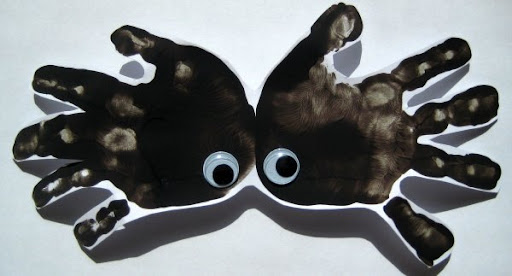 Isn't it funny that once a year, things that we try to keep out of our house…like spiders…become a decoration?
I love these hand print spiders because any craft which includes a hand print or foot print deems itself worthy to be kept. My three year old daughter loved this activity as she was able to turn her hands into a spider, hopefully your kiddos will enjoy it to!
Supplies:
black paint (washable is a must!)
paper plate
wiggly eyes
paper (I used card stock)
string (optional)
Have your child dip each hand in the paint, spread their fingers wide, and then lay them on the paper with the heals of their hands touching. After the spider has dried, cut the spider out and then slightly bend the finger prints to make the legs. Add the eyes and you are done! It's that easy! If you want to hang it, poke a hole in the middle and tie a ribbon or string in the middle of the spider.
Halloween is a fun time of year for kid crafts. I'd love to see some of your ideas! You can contact me here by using the contributor contact form, or just leave me a comment below.
Now I bet you are wondering about the giveaway….
Well I'm glad you asked because it's a good one! Marie from just released her new e-book , and she is giving one away to one of our lucky readers. It comes complete with a supply list, learning objectives, step by step instructions, and detailed photos. Just in time for rainy days with nothing to do. All for only $7.00! Here's the nitty gritty:
Giveaway closed, comments remain open
Winner will be chosen using random.org, but feel free to leave flattery comments anyway (we kinda like 'em).