Let's say your son's birthday is coming up and you would like some cupcake toppers, but you can't find any you like. Sure there are a bazillion cute ones online but it's too late for shipping and he would really think it was cool if his name were on them. Or maybe you made a bunch of cookies and treats and would like a fun little tag to deliver them with. Or, you have a blog and want to make a button, banner or free printable for your readers. Well today is your day!
Every time we have printables, or anything of the like I always get a few emails asking me how I made them. I always tell them , and that I have a tutorial coming up to give the how-to, but then forget to do it. I was making some printables for Halloween and thought this was the perfect day to show you, finally.
I will show you how I made this cute little image I will print onto card stock and make little tags with.
How To Make Your Own Printables, Buttons, Banners…Anything!
First you need to start with an account on . They have a free version, but to have access to all the seriously fun stuff you want to get the upgraded version. It's about $25 for a year, very reasonable. Especially if you have a blog and need a last minute graphic. So set one up then come back :).
Once you have an account, if you click on the library tab and then click on start on the far left, you will have a screen that looks like this. The arrows show you what I am talking about. Now, I could go on for days about all the things you could do with Picnik, and I just about told you about something totally off subject, but I am trying to stay focused here, I will tell you later, k? Okay, now click on the make a collage button .
Now you will have a page that looks like this. The default collage is square. Now of course you could make a collage of pictures, but that is not what we are doing today. Right now we are making a canvas for our graphic. You need to think about what you want the end result to look like to pick the appropriate size. For instance if you are making a round cupcake topper you should use the square. If you are making a 125 x 125 blog button you would also use square,for a banner pick a longer one. Once you make one, you will have an idea of what you need. Just click on the options on the left and it will pop up.
Now click on the little box the arrow is pointing at. This will give you a color pallet to choose from. Pick your background color. Don't forget, you can pick white. When you are done click Done in the upper right hand corner.
Now you will want be on the edit page. If you didn't automatically land there, just click on the edit tab at the top. Here you can crop and resize your image, among other things.
I am wanting to end up with a square, so I will just resize mine. Click on resize, then add in the dimensions you would like. I choose 300 x 300. Then click OK.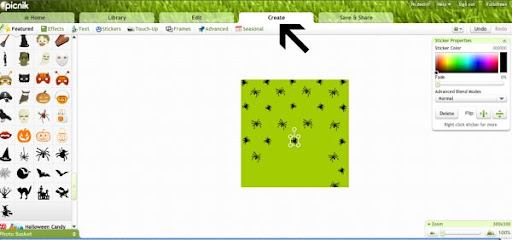 Now click on the create tab. All sorts of fun to be had in here, just play around! Under the featured tab where I am now they will have seasonal stuff, and popular actions. But if you go under stickers you will find even more, go through all of the stickers, you will find all sorts of fun stuff. I wanted some little bugs and spiders so I just clicked on Halloween stickers and then on the image I wanted. It will appear on the screen. You can resize it, reposition it, change it's color, or even flip it. You can layer your images too, just play around and have fun.
I wanted a frame within my frame so I clicked on stickers, then on geometric, then on the circle. Position it and resize to what you want.
Pick the color you want it to be. I am using this as a frame that I would like to be orange, so I picked orange. You can also fade the color to get a more exact shade you are looking for.
I then layered another circle over the first one by simply clicking on the circle again, resizing and repositioning. To pick white use the bar to the left on the color picker.
I went back into the featured and added some more Halloween stickers.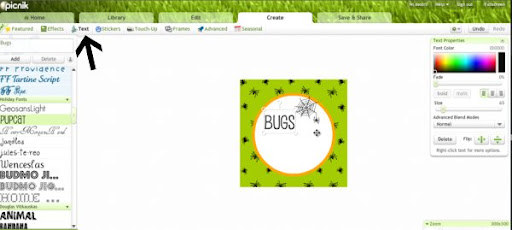 Now to add words you will click on the text button. Just type the words you want click add and then you can pick what font you want. Keep in mind that what you type in the box will appear on one line, so if you want words in different locations, add them separately. You can adjust the size, location and even tweak the angle, I forgot to mention that before on the stickers. When you click on the image and then on the circle at the top of the little bar, this will let you rotate the image or text.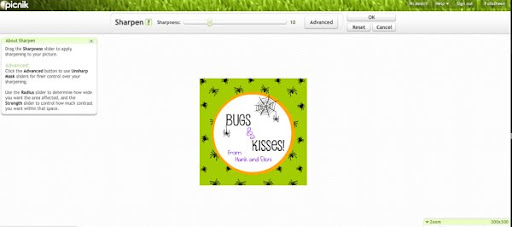 When I have the graphic looking the way I want, I go back into the edit tab and then sharpen. For some reason when I save the image, it always looses some clarity. I only do this if I am using it for the website, for printables, it prints just fine. This is an optional step.
When you have it the way you want, just click save and share at the top and save where you would like. All done!
To make duplicate images, right click on the image and it will give you the option to duplicate. This helps when you want to add dots the same color and size.
To make a circle, start with a square, under the create tab click on frames. Click rounded edges and then take the corner radius bar all the way to the right. Then click transparent corners. Now you have a circle canvas!
A few other things to note:
don't forget there is an undo and redo button, they are life savers!
you can write text and stickers over images too
when you are done saving you can click on continue editing and change things up without having to start from scratch
If you need to adjust a previous graphic when layering, just click on it and you can edit.
So there you have it! Just play around and you can make all sorts of stuff.
They have a bunch of fun Christmas and Hanukkah stickers too, just look under seasonal.
I will leave you with some free printables now, just click on the image you like, right click and save to your computer then print. You can duplicate the image in word to get more on a page. They would make cute cupcake toppers, tags, anything! I am using the bugs and kisses to send to family with some treats.
Don't see one you like? Well, now you can make your own!
If you have anymore questions leave them in the comments and I will answer them there. If there is anything else you would like covered let me know and I will make another tutorial.