Looking for a fun and different way for the kiddos to paint and use their creative side? I have got just the thing for you…marble painting!! This has been a lot of fun, maybe more for me than my daughter…I had never seen it done until I was trying to find a way to paint stripes on a zebra for preschool. :-) It is so easy and not too messy, depending on how wild you get rolling the marbles.
Supplies: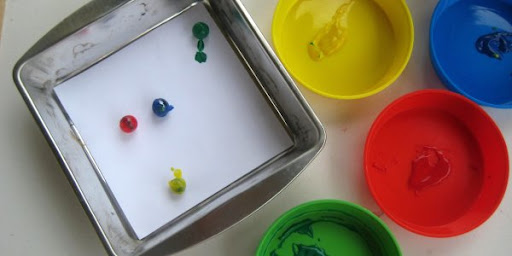 Place paper in a pan. (I use cheap pans that I bought at the dollar store. Although, it doesn't really matter if they are cheap or not because if you use washable paint, it will come right off.) Roll marbles in the paint, put them in the pan…..
….then shake the pan to roll them around. Simple, right?
You can make this craft quick by putting all the marbles in at the same time, or stretch it out by doing one marble at a time. It's also fun to mix colors, which gives you an opportunity to talk about what different colors make if mixed.
What other creative ways have you used to paint, besides the fingers or brush?