This post is part of the Rock The Flop Event with Grand Prize of a $100 gift card to , more details on how to enter here.
I am way to excited about how these turned out! It was one of those ideas that you didn't know if it would work out, and it turns out even better than you hoped. I love those kinds. Much better than the ones you are quite certain you have all figured out and they end up in the scrap bucket :).
So I wanted this to be a no-sew project and create a relaxed flip flop that looks like it just walked off a beach. Because really, that is where I wished I just walked off of. I just cut the fabric and tied some knots! But really, if you did whip out your sewing machine the possibilities are endless! You could do just about anything with this deconstructed flop. I had about a million different ideas, but settled on this one, so I am hoping some of you out there will come up with some fun twists!
Also I had a few emails reminding me I chose Labor day weekend for the finale of the event. Is it really this weekend? Sheesh, where has the time went?! So we are giving you another week, which gives you plenty of time to make some flops and win a $100 gift card from Roberts Crafts. More on them later, and a linky at the bottom. But first….
How To Deconstruct a Flip Flop
You have to have a pair of flip flops that have the discs holding the top part on, on the back. I bought mine at Old Navy for $2.00.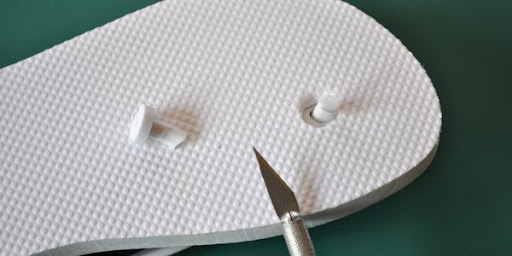 Now flip over the shoes, and cut off that disc with an exacto knife. If you go at an angel they come right off. Do this on all three, and pull the top off.
Now you have a clean slate! Oh the things you could do! I see beads, fabric, rope….
Here is what I did:
I started with two strips of scrap fabric measuring 10 in x 1 in. I did not sew them, but they would be sturdier if you did.
Fold in half and pull the loop end through the hole on the form. Make sure the loop is on top. I pulled mine through about an inch…
and then tied a knot and put a little glue in the hole and pulled it tight. Then cut off the extra.
The knot should fit right into the divot where the disc was before.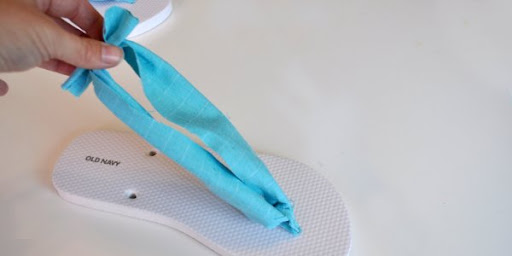 Next I took two strips measuring 2½ in x 24 in. Loop them through the toe piece and then slide on the flop and tie where it is comfy. I had a little stretch in my fabric, so I tied mine pretty snug.
It ended up when pulled straight it reached the back of the flop, just as a reference.
Next I took two strips measuring 12 in x 1 in, and cut the ends into a point.
Making sure it is looped around the top part, pull the ends through the back hole from the top. Do this on both sides, slide on the shoes and adjust the length to where it is comfy.
Now tie the backs into knots, and add a little more hot glue to the bottom divot and pull tight. Then cut off the tails.
I still had the flowers from this tutorial, and sewed them on the side piece with a needle and thread.
Done! So so easy! And do you see what I mean? The possibilities are endless.
My sister's neighbor was kind enough to model, and she even said they were so comfy. You barely feel them on. Then she asked if I was going to be making them to sell…hmmm, that's an idea.
Don't they look like a beach sandal? Now if only I had a beach near by.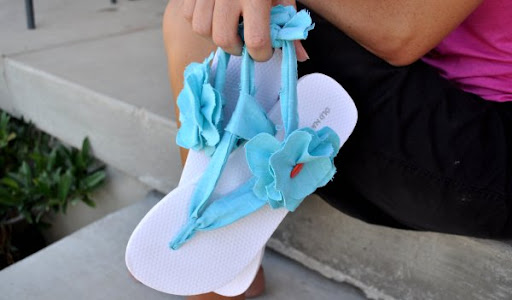 I bought a ton of the flip flops at Old Navy, and can't wait to make matching shoes for the skirts I make, so fun!
Okay so here we go! I want to see your best stuff! That $100 gift card to sure will come in handy for the upcoming holidays don't you think? Need more inspiration? Here is my first flip flop makeover and here is Suzanne's. We can't enter dang it.
The Rules for the Rock The Flop Event are here, with an updated final submit day of September 13, 2010.