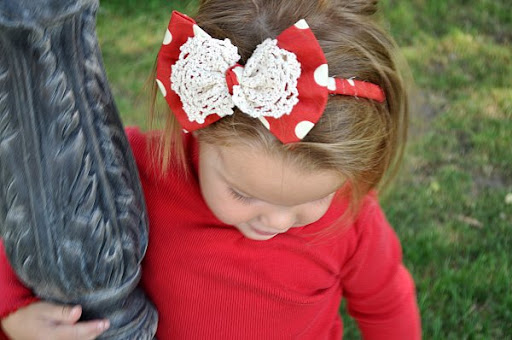 I hesitated typing in Minnie Mouse up there…but my husband calls my little girl minnie when she wears it. It's fitting right?
Remember the pants I made that match? They're my favorite. Absolute. I have officially become the mother that finds somewhere to go, just to dress my kids up. So sad ;). I even got a library card…and I have never done that before. BIG stuff I tell ya. Anyhoo, a few of you mentioned you would like to see a tutorial for the bow (I totally asked hoping you would), and since that always makes my day I am here to happily oblige! So here goes:
Big Fabric Bow With a Doily…On A Headband
Sorry, it is early and I just cannot come up with a better name than that. I am trying out this "get up with my hubby at 5:00 AM" business, and I dunno if I can hack it. But, it may free up my nap time for sewing – so we'll see how it goes.
Supplies:
all your sewing stuff (you could just use all glue)
scrap fabric
fabric glue or hot glue
small doily (mine measured about 3 inches across)
headband or clip
Measurements:
Keep on mind that you can use any size of fabric you want. For the sake of this tutorial I will use the measurements I used for this bow. For the bow I used a piece of fabric that measured 8½ x 7 inches. I then had a long strip of scrap that I used to wrap around the headband and a little piece to wrap around the center.
Start by folding the fabric in half with the 7 inch sides together and right side in, do not press. Sew the seven inch sides together with a straight stitch and a ¼ inch seam allowance. Turn piece right side out.
Place the piece flat on a workable surface with the seam running down the center on top. Now put a thin strip of fabric glue one inch from the ends on both sides as shown.
Turn over each end and press into the glue. Run your fingers over the seams to make sure they are stickin' good. You want to let the glue set for a few minutes, so while you are doing that you can start on the doily…
Start by pinching the doily in the center and then make little gathers on each side until it looks like the picture above.
Take a needle and thread through the center of the gathers on the side, and then wrap the thread around a few times. Secure with a knot and set aside.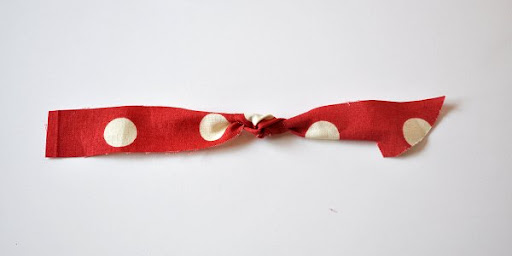 Take a little strip of fabric at least 7 inches long and tie a knot in the center. Set aside.
This would be a good time to wrap your fabric around the headband. I wished I had taken pics for that, but it is really easy. Starting at one end of the headband, glue the end of of a long strip of fabric to the end. Leave a tiny bit that you can fold over the end. Now just wrap it around gluing a little as you go. When you get to the other end cut with a little left and fold over the end.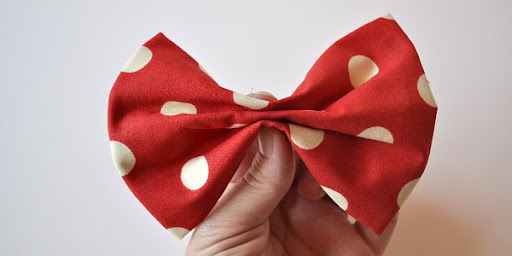 Now gather your bow like shown above, again easier if you start with a pinch in the middle.
Layer the doily on top of the bow, wrap the strip with the knot on top around the two and tie in the back.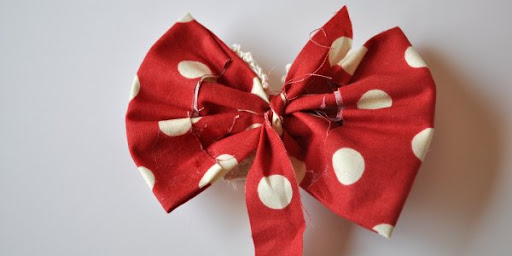 At this point if you are putting the bow on a clip you will just trim the ends and glue onto the clip. Here and here are good examples of ways you could do it. If you are adding it to a headband leave the ends and carry on.
Dab a bit of glue on the back of the tie.
Press the headband onto the glue. I put mine on at a slight angle and on the side a little so that the bow would sit well on the head.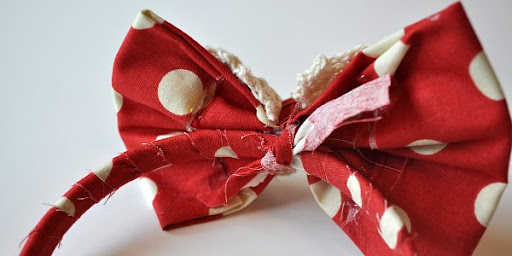 Now just take the ends and tie around the headband, this will help seal the glue. I just wrapped the ends around the headband and secured with a little more glue.
You're done! Let it dry for awhile before you try on, things could be a little sticky yet if you know what I mean ;).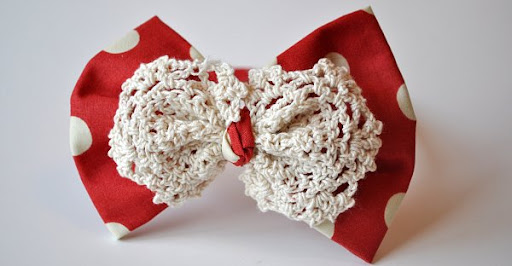 Wondering why I didn't just sew the ends together on the back side of the bow instead of glue? The glue on the back makes the ends of the bow nice and firm to lay broad, but allows for the front to gather a little. If you sew it would still look cute, just not as wide on the ends.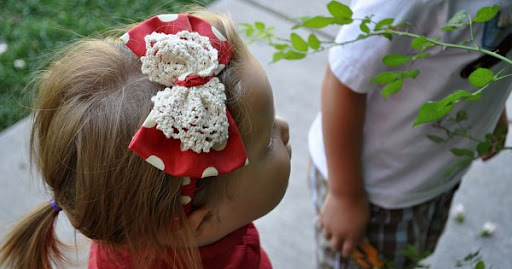 So cute, I may have to borrow it from her…it fits you know, I tried it on. Not sure I can pull it off!
I hope you all have a happy Monday. I will be back later with a guest post and another project so check back if you get a chance!
Talk soon….
~Destri
ps, if you are waiting for an email from me, I promise I am getting there. My inbox was a little full after a week without internet!